Follow us, Like us

Tweet with us and

get great

online web specials.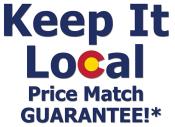 for questions or job submissions  email: orders@newwaymarketing.net

This site is protected by copyright and trademark laws under US and International law. All rights reserved. © 1982 - 2018 www.NewWayMarketing.net

15334 East Hinsdale Circle, Suite 1B ● Centennial, Colorado 80112

SHIPPING and DELIVERY CHARGES:  All orders can be picked up at our office Mon. - Fri.  9:00 am - 5:00 pm.

Please contact our office for estimated shipping/delivery charges. Shipping charges are based on

standard UPS or USPS current rates. UPS rates for residential are higher rates then business addresses.

Not responsible for delivery delays due to weather conditions.

p: 720-870-5725   |    tf: 888-870-5725  |   f: 720-870-5612