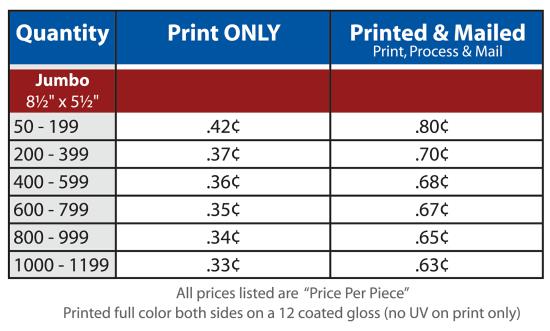 Direct Mail Postcard Program

Choose your cards for a 4 to 12 month program and let us handle the rest.

Price Per Piece: Print,Data Process & Mail (*Postage prices based on current 1/14 Rates.

Mailing cost subject to change with US postal rates.)

On November 2016 the U.S. Postal Service® implemented new postage rates for several mail classes including First Class

Service and Bulk Rate mailing.

FREE UV Coating! When New Way Marketing Prints, Process & Mails Your postcards.

FREE UV Coating is on the non postage side of card. Complete fulfillment, Monthly program only. Customer must be signed up

for a 4 to 12 month postcard program to receive free UV coating. UV coating on second side available at additional .3¢  per card

UV Coating is NOT FREE on print only.

Click on links below to see full list of each programs

Minimum printing order $24.95 plus tax

Additional charge for set-up, layout & design.

Set-up. $30.00 layout fee for first time customers.  (One time fee)

Please indicate below first time or returning/renewing customer.

Set-up fee applies for any order that is canceled.

Sports & Outdoor Colorado

Helpful Hints,

Tips & More

Keep These Cards All Year Long!

When choosing you program, If postcards have multiple styles and designs,

the newest postcard design will be used if one is not designated on your order form.

Follow us, Like us

Tweet with us and

get great

online web specials.

Magnets with

staying power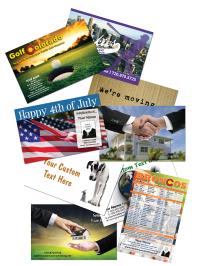 For over 30 years our Direct Mail Postcard Program have consistently generated the highest rate of return for our customers, and now reaching out to your customers (and prospects) has NEVER been easier!

To make your life easier and to get the most out of your marketing, we have put together programs that are customer favorites and have the best shelf life. Below, you will be able to choose from one of our

6 pre-selected programs. Of course, you can create your own custom mailing program from the

over 500 postcards in our gallery.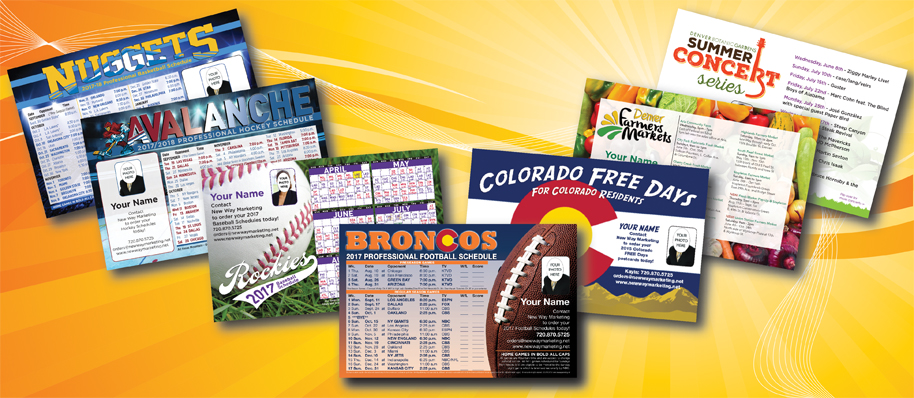 Team and or other Sports schedules shown are public information and provided solely for the convenience of professional sports fans. New Way Marketing is not sponsored by, affiliated, connected,

or associated with any of the following: the Colorado Rockies professional Baseball organization or the MLB, the Denver Broncos professional Football organization or the NFL,  the Denver Nuggets professional basketball organization or the NBA, Colorado Avalanche professional Hockey organization or the NHL,  the Colorado Crush professional Football organization or the AFL, the Colorado Rapis professional Soccer organization or the MLS, the Colorado Mammoth professional lacrosse organization or the NNL, the Colorado Rage professional Hockey organization or the Central Hockey League, NASCAR or the Nextel Cup racing, National Association for Stock Car Auto Racing. NCAA, National Collegiate Athletic Association,  U.S. Air Force Falcons Football, University of Colorado, CUBuffs, Colorado State University, CSU Rams, University of Northern Colorado, UNC Bears, Pac12, Big Sky Conference, Mountain West Conference, trademarks or any of it's affiliates.  © nwmcards



for questions or job submissions  email: orders@newwaymarketing.net

15334 East Hinsdale Circle, Suite 1B ● Centennial, Colorado 80112

SHIPPING and DELIVERY CHARGES:  All orders can be picked up at our office Mon. - Fri.  9:00 am - 5:00 pm.

Please contact our office for estimated shipping/delivery charges. Shipping charges are based on

standard UPS or USPS current rates. UPS rates for residential are higher rates then business addresses.

Not responsible for delivery delays due to weather conditions.

p: 720-870-5725   |    tf: 888-870-5725  |   f: 720-870-5612

This site is protected by copyright and trademark laws under US and International law. All rights reserved. © 1982 - 2018 www.NewWayMarketing.net