Custom printed calendars are one of the most effective forms of advertising. 

No other advertising medium allows your company or products to be seen 

every day of the year like a beautiful color calendar.   

Your COLOR information on every page of these calendars.

Click on image for larger color samples.

Call/Text or Email for Information

Format: Standard Wall: Size Closed: 8.5" x  11"  /  Size Opened: 17" x  11" 

Time Span: 12-month individual months +  next year at a glance

Standard Stitched Calendar

Would you like a custom calendar?  Would you like to use your own images?

Would you like to mail out these calendars to your

clients, customers and friends?

Email or call to find out how.


To see a sample of the calendar inside page and imprint area for all your information click on image to the right.

Full color imprint on EVERY page!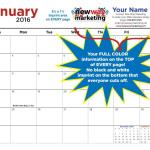 100's of designs to choose from!!!

13-month calendars in beautiful 4-color visuals with U.S. federal and Canadian national holidays marked. 

Call/Text for options and pricing info